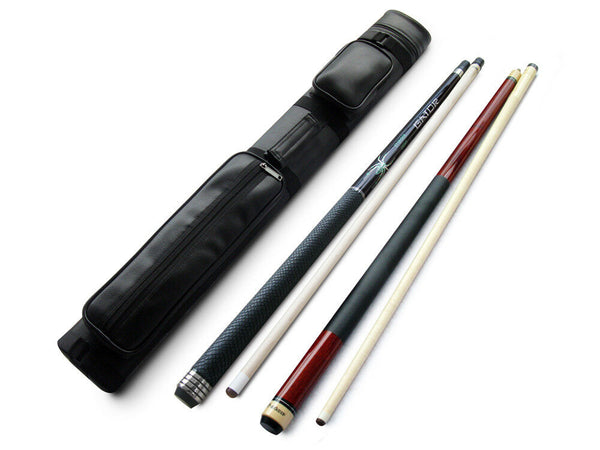 We aim to show you accurate product information.
Champion Black Spider Pool Cue Stick, ST14 Pool cue, 2X2 Black Case, 2 Glove
After you purchase, you will receive the full set as listed below: 
- Spider Black maple pool cue (one cue 1 shaft X 1 butt and joint protector) 
- ST14 Pool cue
- Billiard glove,Pool case.
Our playing cue description is as below: 
Improve your shot with Champion Spider Series Pool Cue! The Spider Leather Cue Series is made for the professional Billiards player. Our cue shafts are crafted from Grade-A, Hand-Selected, 100% Rock Maple that we treat with Nelsonite, a patented stabilizer that protects it from atmospheric changes, and with a special epoxy finish that protects the cue from moisture and warping. Our Spider Series shafts feature a walnut-stained birdseye rock maple forearm and a butt finished with a high quality hybrid or authentic leather wrap that will give the ultimate stability. Our Spider Series cues are not only beautiful, but also use state of the art technology like HXT low-deflection ferrule that increases power and accuracy, and a Tiger tip for superior grip, spin and durability. Become the envy of all your friends with Champion Spider pool cue! The Spider Leather Cue has the highest quality Layered Tiger Everest Leather Tip which our expert artisan craftsmen affix with precision and care.  If you are looking for a professional cue, then you have found it in the Spider Leather Cue.
Model: SP-G Black
Tip size: 13 mm
Tip: Tiger Tips
Length: 58 inch
Ferrule: Premium Low-Deflection Ferrule
Shaft: Hand-Selected, 100% Rock Maple - Treated with Nelsonite & Special Epoxy Finish
Joint: 3/8X10 Stainless Steel with joint protectors
Ring: Dashed Rings
Wrap: Snake Skin Textured Leather wrap
Natural Nutmeg Stained Rock Maple Forearm and Butt
Triple Silver Rings
Weight:Available in 18 - 21oz.
Brand: Champion ST Cue 
Model: ST14 
Tip size: 11.75  mm  Le Pro® Tip 
Ferrule: ABS Fiber ferrule 
Shaft: Grade-A Rock Maple
Joint: 5/16 x 18  
Length: 58 inch 
Forearm: Painted Rock Maple
Ring: Dashed Rings 
Wrap: Double Pressed painted leather textured wrap
Weight: Available in 18- 21oz. 
hampion Sport Co's cues and shafts are made from 100% Grade-A Rock Maple
Rock Maple with a high-gloss finish creates an armored coating, protecting from fading and chipping
ST, Gator, and GN Series cues come standard with a high-quality French Le Pro® tip for maximum ball control
58 Inch Standard Pool Cues
100% Pure Rock Maple Shafts
ST Series Features a Double-Pressed Painted Leather Textured Wrap