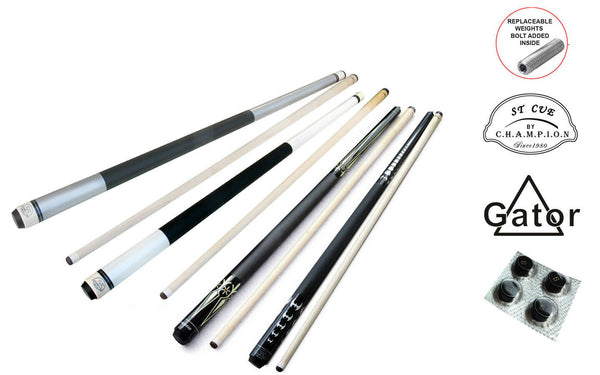 We aim to show you accurate product information.
Lot of 3 or 4 Cues,Champion ST9 Black/Turquoise/Grey/Wine/purple Pool Cue Stick-ST5B
This set is perfect for anybody who owns their own pool table at home and would like to replace the low quality one piece cue sticks with quality 2 piece cues.
Included Four cues, four pool gloves, four Layer tips
Model: ST5B,ST6,ST9,ST15
  ST9 and ST15 Tip size: 13 mm  Layer Tip
ST5B and ST6 Tip size: 12 mm  Layer Tip
Ferrule: ABS Fiber ferrule
Shaft:  Maple-Treated with Nelsonite & Special Epoxy Finish
Joint: 5/16 x 18 
Length: 58 inch
Forearm: Painted Rock Maple
Ring: Dashed Rings
Wrap: Double Pressed painted leather textured wrap
Weight: Available in 18- 21oz.
Champion Sport Co's cues and shafts are made from 100% Grade-A Rock Maple
Rock Maple with a high-gloss finish creates an armored coating, protecting from fading and chipping
ST cues come standard with a high-quality French Layer tips® tip for maximum ball control
58 Inch Standard Pool Cues
100% Pure Rock Maple Shafts
ST Series Features a Double-Pressed Painted Leather Textured Wrap