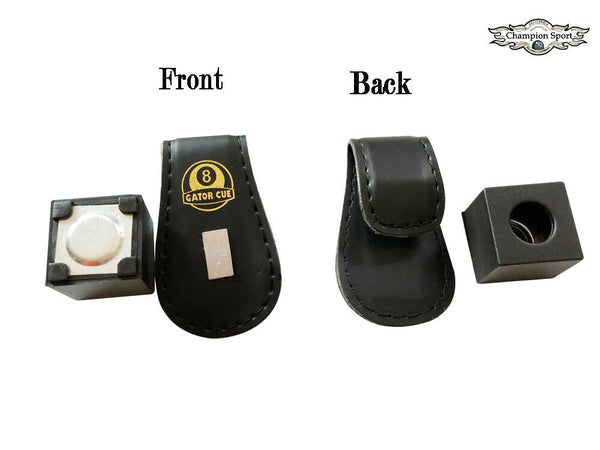 We aim to show you accurate product information.
Gator Leather Magnetic Belt Clip Chalk Holder, Retail: $24.5
Champion made a new chalk holder with a strongest Magnetic in 2019.
Asin: B00CS8IAAE
Having this Magnetic Chalk Holder with Belt Clip, you may never lose yours again. Put a cube of chalk in the holder, and it sticks magnetically to the leather clip, where it is ready for use. This Magnetic Chalk Holder with Belt Clip is a perfect tool for whomever fancy playing
Features:
A strong magnet keeps chalk caddy on a belt clip
The chalk is held in the plastic caddy( Chalk is not included)
The caddy is magnetized to hold onto the belt pad
Clips onto your belt or pocket, and keeps your chalk handy Chalking couldn't be made simpler, and this way you won't be interrupting your pre-shot routine with a distracting "hunt the chalk" routine
Capacity: Approx. 26 x 26 x 24mm(L x W x H)
Opening Diameter: Approx. 14mm
Material: Leather, magnet
Color: Black
Package Includes:
1 x Chalk Holder
1 x Belt Clip
 We have this products for 4 cues or 5 cues in stock.
Specifications
| | |
| --- | --- |
| Brand | Champion Cue |
| Product Name | Gator Leather Magnetic Belt Clip Chalk Holder, Retail: $24.5 |