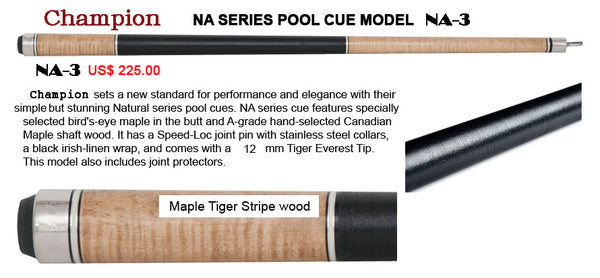 We aim to show you accurate product information.
Champion Inlaid Custom Billiard NA Pool Cue Stick, Hybrid Shaft, Uni-loc Joint
Item Include:
1 NA Pool Cue
1 1x1 Hard Cue Case
1 Aim Trainer

1 High Quality Glove
Champion Inlaid Series is made with Precise Uni-loc (™) Joint and exotic materials that will make the cue even better in the world. With Layered Tiger Leather Tips and the highest quality Maple wood, NA Inlaid Cue is perfect for any professional player. A Uni-loc (™) joint pulls the shaft to the butt with 360 degrees of equal pressure and locks it in place with just one turn, ensuring a precise fit and superior shaft alignment each and every time you connect to the cue butt to the shaft. Featuring the highest quality gloss to prevent staining and to lock out moisture, the NA Cue Series is the must-have Cue for serious billiards players. These cues are made with 100% Maple using our unique Champion crafting technology fitted with Layered Tiger Leather Tips to give you more control, more accuracy, more chalk, and less shape distortion.
Features: 58 Inch
Cue Tip: 12mm 
Tiger Everest Tip
Ferrule: 15MM XTC Ferrule, capped and threaded onto the shaft
Shaft: 29" HTO Solid Maple shaft
Taper: Pro Taper
Joint: Stainless Steel
Forearm: Curly Maple Wood for NA01 and Cocobolo Wood for NA02
Bird-eye Maple Wood for NA03, and African Exotic wood for NA6
Pin: Predator Uniloc Joint
Collar : Double silver with cream rings at joint, wrap and butt plate
Butt Plate: Stainless Steel with etched Champion logo
Wrap: Black Irish linen
FREE: Shipping
Warranty : Limited lifetime
No Returns on chalked cues as it is considered used after being chalked.