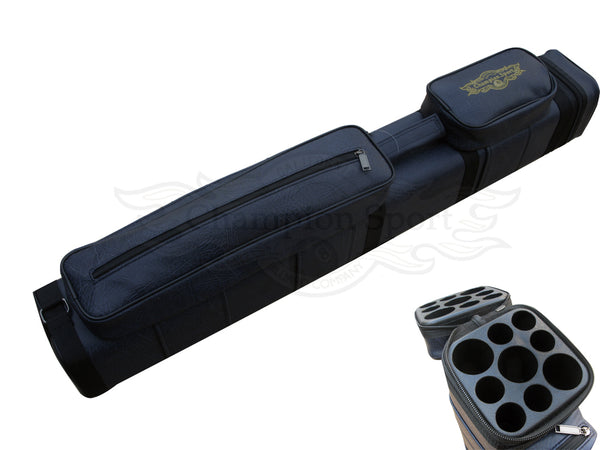 Model B_0425
Retail Price: $89.56
Very strong, durable Case.
Individually lined tubes, with finest interiors to protect your cues.
This is a nice case that will do a great job of protecting your cues.
Case has a wide comfortable shoulder strap and side handle.
Case has 1 small and 1 large pouch.
Case will accommodate butts and shafts up to total length of 31 inches.
Will fit butts and shafts up to 31 inches in length.
Plenty of pouch space for all your accessories.
Holds 3 butts and 6 shafts
Adjustable shoulder strap
Pocket to hold chalk, tips, etc
Color Dark blue
This item measures 32" in length X 6" X 4 1/4" Holds up to a 31" butt or shaft
Small pocket measures 6" X 4" X 1 1/2"
Large pocket measures 14" X 4" X 1 1/2"
Dividers goes all the way into the case
This is a very nice looking case - you will not be disappointed.
Case weight is 4lbs .