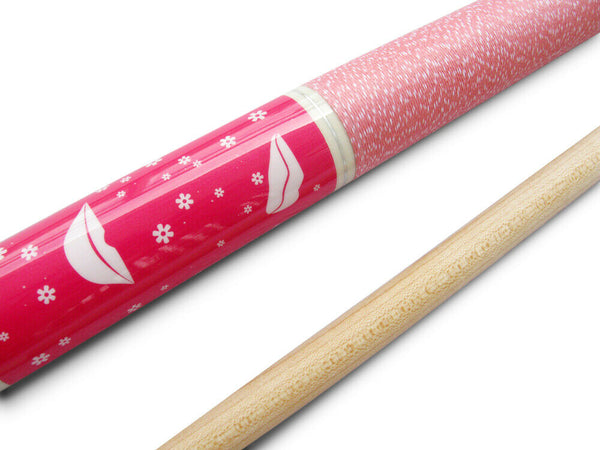 We aim to show you accurate product information.
Champion Pink Pool Cue Stick with Low DeflectionShaft,Adjusted weight,Pool GloveChampion Pink Pool Cue Stick with Low DeflectionShaft,Adjusted weight,Pool Glove
  Brand: Champion Gator  
  model no: TR-2
  Tip size:12.5 mm
  Length:58 inch
  Ferrule: Low Deflection ABS Fiber Threaded Ferrule
  Shaft: Rock Maple - Treated with Nelsonite & Special Epoxy Finish
  Joint: 5/16x18 Joint with joint protectors
  Ring: Dashed Rings
  Wrap: Premium Pink and white Double-Pressed Irish Linen
  Weight: 18 - 21oz.( You can change the weight by replacing the weight bolt)
  Warranty: Champion Warranty 
  3 Year Warranty Against Manufacturer Defect
  Shaft Length: 29 in.
  After you purchase, you will receive the full set as listed below: 
  1. playing cue(1 shaft X1 bottom with joint protector). 
  2. Cuetec glove or predator glove. 
  Our Gator Series cues are made with 100 % Grade-A Rock Maple, turned and dried seven times to prevent warping, guaranteed to arrive at your home completely straight.
  Gator Series cues are designed for intermediate to advanced players, handcrafted with intricate designs that are sure to bring attention to your beautiful cue.
  Fully balanced with an excellent weight to strength ratio, the Gator Series provides a premium stability without sacrificing power.
  To top off this premium cue, it comes with either a Le Pro Tip Tip or 10 Layers of Pig Skin Leather to give you an unmatched durability while still providing a professional accuracy.
  No Returns on chalked cues as it is considered used after being chalked.