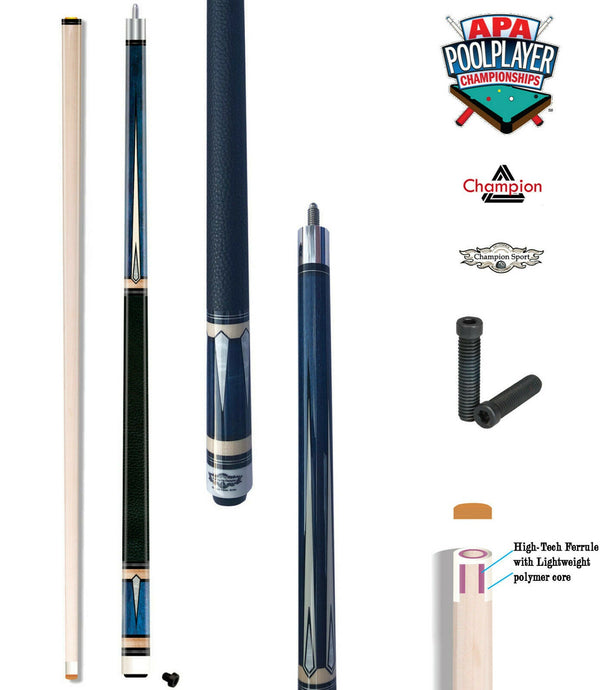 We aim to show you accurate product information.
2021 Champion LPC2 Pool Cue Stick 5/16 x 18 Joint,Low-Deflection Shaft,Pro Taper
The Lost Pieces Series is a beautiful pool cue crafted with exotic materials that will make any professional look even better.  Featuring the highest quality gloss to prevent staining and to  lock out moisture, the Lost Pieces is the must have for competitive billiards players. With Layered Tiger Leather Tips and the highest quality Maple wood, the Lost Pieces Series is made to perfection. The new cues are compatible with the cue and  joint extension. These cues are made with 100% Maple using our unique Champion crafting technology to give you more control, accuracy, chalk, and less shape distortion.
Brand: Champion Lost Pieces Series
Model No: LPC2
Tiger Laminated layered leather cue tip, selected from the finest quality pig skins in the world
Tip size: 12.5mm
Length:
58 inches or 60 inches long
h
Ferrule: Low Deflection ABS Fiber Threaded Ferrule
Shaft: Rock Maple - Treated with Nelsonite & Special Epoxy Finish
Joint:  5/16 x 18  Joint with joint protectors
Ring: Dashed Rings
Wrap: Premium  Leather wrap
Weight: 18 - 21oz.( You can change the weight by replace the weight bolt)
Warranty: Champion Warranty
3 Year Warranty Against Manufacturer Defect
Made in the USA by Champion Cue
No Returns on chalked cues as it is considered used after being chalked.