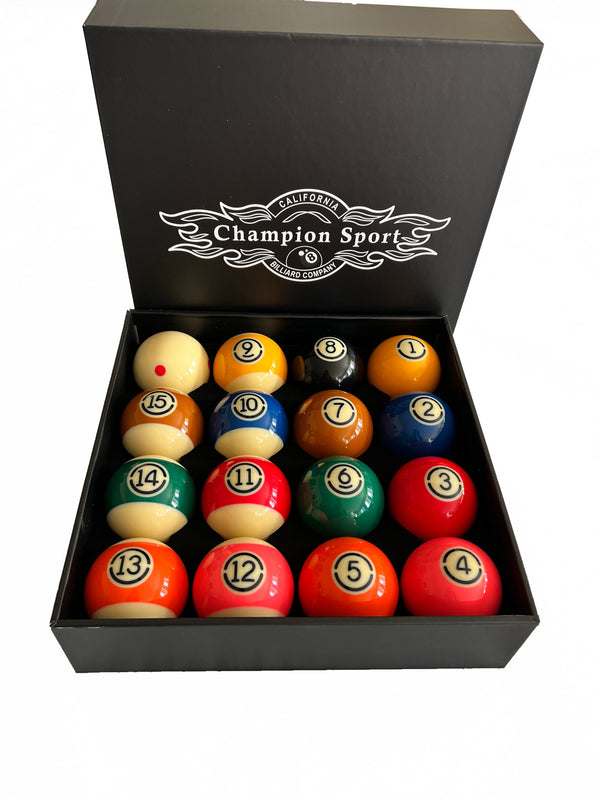 Champion Balls is an expert in polyester resin billiard balls, and features a hardened fade-resistant luster technology coating for superior scratch resistance and long color life. Quality control for size, roundness, density, balance, weight, color, hardness, superior playability, and durability.



These balls are regulation pool ball sizes of 2 1/4 inches. (57.15mm)
These have not been opened or parted from other sets like some of the other sellers claiming damaged packing who parted out sets. These balls are matched sets and that should never be done. They are designed to the highest standards that ensure the roundest and most perfectly balanced balls in the world.
They hold their high luster and roundness for a long time resulting in minimal ball and table cloth wear.
These balls are the FINEST pool balls in the world.
The large numbers and slightly oversized stripes make them very attractive.
These balls normally retail for $250.96 and are discounted at various billiard warehouses in the $151.85 range. Special quantity buys bring this ball to you at a great low price for the best billiard balls in the world.
Brilliant colors will not fade and they are very chip and ding resistant. These balls are the ultimate in precision and exceptional longevity which make these balls stand out from the rest.