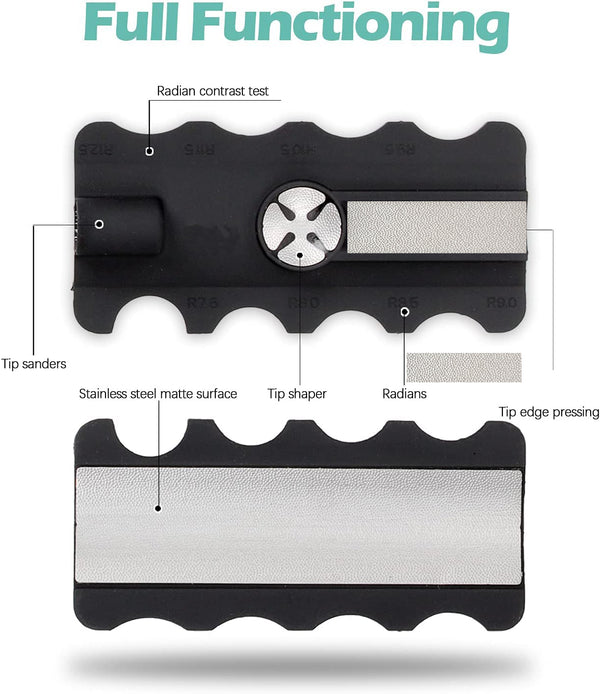 Champion 5 in 1 Cue Tip repair tool shaper/ Repair Tool Scuffer/shaper /Aerator/Burnisher/Radius Gauge
Champion Sports is a billiard company that manufacture and sale for products including pool stick, cue ball, cue case, and pool Cue Accessories.
Model:
AC825
Cube 5 in 1 pool cue tip tool
Available in black color
Multi-functional: this cue tips repair tool is 5-in-1 functional and can be served as a shaper, scuffer, aerator, burnisher, gauge, proper for shaping, scuffing, and poking the pool cue tip

Repairing the top curve and maintaining its hardness, better fixing the chalk, and keeping away mistakes

Fine workmanship: this pool cue tip repair tool is mainly made of reliable plastic, hard to break or deform, won't slip easily, no odd smell, serviceable and well made, bringing you a comfortable touching feeling, which can serve you for a long time

Appropriate size: the cue tip repair kit measures approx. 9.5 x 5 x 2.5 cm/ 3.7 x 2 x 1 inch, small and lightweight, won't occupy much space, nice for you to carry with you and store in your toolbox and more, giving you easy and flexible use


Practical to use: the billiard tip tool is designed with a metal frosted side, long-lasting and dependable, and the length and width of the frosted surface are moderate, allowing you to easily polish the cue tip according to your actual needs
【TIP SCUFFER】The Pool Cue Tip Scuffer can keep your cue tip rough to maintain its chalk retention capabilities and prevent miscues.

【TIP SHAPER】The Pool Stick Tip Shaper instead of sandpaper, it is made with an easy grip in front of the tool to hold.

【TIP AERATOR】The Billiard Cue Tip pick uses tiny needle-like protrusions for maximum chalk retention.

【TIP BURNISHER】The 5 In 1 Tip Repair Tool with a burnisher, it hardens and polishes the side of your cue tip flush with the ferrule.

【TIP RADIUS GAUGE】The Upgrade Billiard Pool Cue Tip Tool has 8 different radii from R7.5-R12.5. It is easy to measure the perfect tip radius.
Use the shaper instead of sandpaper to keep your cue tip rough.

When the edge of the tip is not deformed, rotate the tip camber surface to polish to create a radius.

Use the aerator to create your tip roughness before you put chalk on the tip.

Use the burnisher to press and move back and forth to increase the hardness of the tip edge.